THE NEW LINKEDIN LOGO PNG 2022 
Find below the new Linkedin logo png 2022. Download the latest free Linkedin logo png full colour, blue, black or transparent for your resume, CV, email signature or website. Brought to you by Mau. Senior Linkedin Marketing Specialist at eDigital.
🔥 Trending > The best Linkedin cover image ideas & examples
THE NEW LINKEDIN LOGO PNG 2022
Linkedin logo HTML colour code: #2867B2
The new Linkedin logo is not as minimalistic as the new Apple logo but can easily compete with some of the top luxury high fashion brand logos.
🚀 Popular read > The best Linkedin post image size
THE NEW LINKEDIN ICON CIRCLE
👀 Most views today > The best free online logo design makers, apps and tools
THE NEW LINKEDIN LOGO BLACK WHITE PNG – TRANSPARENT BACKGROUND
Want to boost your sales with a successful social media strategy? A well-crafted strategy will:
✔︎ Free up your valuable time
✔︎ Make you produce far less but better quality marketing campaigns and content
✔︎ It will increase sales, profit and brand equity
If you believe you have a creative, passionate and curious mind and you are seriously ready to grow your business, I invite you to craft a successful social media strategy today!
I guarantee you will never go back to the same old way you were doing Linkedin marketing. 😀
LINKEDIN LOGO GIF
A funny gif Linkedin logo animation (man throwing suitcase into the air)
🔐 Exclusive > How to block a company on Linkedin 
LINKEDIN LOGO PNG WHITE
✔︎ You will also like > The best Linkedin article header image size 
LINKEDIN LOGO PRIDE MONTH
Other popular logos:
⭐️  Marketers are also reading > How to turn off those annoying Linkedin birthdays, job changes, and work anniversaries notifications.
Last note: Is your marketing not bringing the sales you want? Would you like to stop wasting your money on ads not performing? Find how you can increase your sales with our eCom boost program!
THE NEW LINKEDIN LOGO PNG
was brought to you by Mau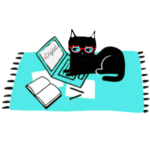 Mau is a certified Facebook, Google Ads, SEO specialist, keynote speaker and one of Australia's top marketing influencers. Mau offers digital marketing strategy support & training. Mau's premium Digital Marketing Plan & Social Media Plan templates are used by thousands of marketers.
Join 5k+ subscribers receiving Mau's newsletter