HOW TO WRITE THE BEST EVENT ANNOUNCEMENT MEDIA RELEASE
Find below our top tips and tricks when writing a successful event announcement media release. Brought to you by MAU. Digital Marketing Specialist at eDigital
TOP TIPS WHEN WRITING A SUCCESSFUL EVENT ANNOUNCEMENT MEDIA RELEASE 
Write a short and snappy headline to grab attention. It should include points from your release and sum up its subject.
The first paragraph is called 'the lead'. It is the most important part of the release and should contain the strongest key message it where the who, what, when, where, and why of the story lives.
Journalists and Editors see lots of releases and may not read beyond the first paragraph, so it is important that it contains all the necessary and relevant information.
After the lead, each remaining paragraph should be less important than the one that precedes it. When your release is written this way, the story can, if necessary, be trimmed from the bottom up.
Keep each paragraph is self-contained and regardless of how many paragraphs are deleted, the story should still
make complete sense.
Keep your media release to one page (maximum 400 -500 words). The aim is to encourage a reporter to pursue your story, not to overwhelm or bore them with detail.
Finish with the Media Contact Details and the Company Boilerplate. The Boilerplate is your media "elevator pitch." about your company and product offerings to a reader who may have no prior knowledge of them.
Send your event announcement release to websites like Media Connections and PRwire
Follow up your release a few days before the event with a media invite. This reminds newsrooms your event is on and gives them all the details they need. If you have key stakeholders, you might like to hold a media briefing with interview opportunities before you begin. Most of all this invite needs to share the "story" the media can get by attending your event. It should also outline the best time for them to attend and who their contact will be on the day. As part of this invite, it's a great idea to outline specific opportunities pertinent to the various outlets. For example, highlight any exciting photo opportunities for print media and enticing vision that will be available for TV news.
NEXT
Send your event announcement release to websites like Media Connections and PRwire
Last note: Is your marketing not reaching your sales targets? Stop wasting your money on marketing that is not performing? Find how you can increase your sales with our eCom boost program!
HOW TO WRITE THE BEST EVENT ANNOUNCEMENT MEDIA RELEASE
was brought to you by…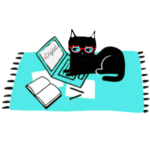 Mau is has been meowing digital marketing for 16+ years. A certified Facebook, Google Ads, SEO specialist and keynote speaker; Mau also offers marketing strategy support & digital marketing training. Mau's Digital Marketing Plan & Social Media Plan templates are used by hundreds of marketers. Subscribe to Mau's newsletter or connect on Linkedin Instagram or Facebook