THE NEW IKEA LOGO PNG 2021 LATEST
Download the new IKEA logo png. The latest IKEA logo font, history & evolution, IKEA logo vector, SVG. The official IKEA logo transparent styles & colours. Need logo design support? Contact us.
THE NEW IKEA LOGO PNG 2021 
Click on the below IKEA logo png to see its large size.
💡 Tip: Ensure you use the IKEA logo in places where it is permitted. Contact your local IKEA branding department to find out more.
A quick question for you:
How much of your time and money is wasted doing Digital marketing
Is it really worth running Google ads and social media ads that do not convert into sales?
Would you better off pivoting your marketing resources to other areas?
I see this 
  MASSIVE ISSUE 
  many times!
Many new business owners, entrepreneurs and marketers naively think the more paid campaigns they run, the more recurring revenue they will generate.
Does that sound like you? That's ok.
You can always change the way you see Digital Marketing by starting a successful Digital Marketing strategy.
  Once you have your Digital Marketing Strategy defined, many things will make more sense and I will assure you will look at Digital Marketing in a far different new way.
In fact, a well-crafted Digital Marketing strategy will:
✔︎ Free up valuable time
✔︎ Make you produce far less but better quality eDMs and,
✔︎ You will get greater results as email subscribers and customers will notice the change.
If you believe you have a creative, passionate and curious mind, I invite you to read my article about How to write a Killer Digital Marketing Strategy.
I guarantee you will start doing Digital Marketing in a far more meaningful and effective way. In fact, you may find your most valuable customers may have far greater reasons to buy from you than delayed payments.
ABOUT THE IKEA LOGO HISTORY AND EVOLUTION
Swedish furniture retailer IKEA has unveiled its updated logo, although the changes will only be spotted by those with a keen eye for detail.
Stockholm brand agency Seventy Agency developed the new IKEA logo identity, in its first redesign in 1983. It sees the blue block letters of the iconic IKEA logo subtly enlarged to snugly fill the edges of its surrounding yellow oval. The logo design brief given to the designers was to increase readability both in a digital and physical format and across a range of sizes. The challenge was to achieve these criteria without needing a re-registration of the IKEA trademark.
The new IKEA logo also had to be similar enough to the old IKEA logo design that both could be used in close proximity to one another for the time it takes to make the change across the stores, packaging and online, without the two logos clashing.
The Ikea team and its design agency wanted to maintain the unique characteristics of the original iconic IKEA logo design, but make subtle, yet impactful changes to the IKEA logo for a better experience across all formats.
Final tip: Is your marketing not bringing the sales you want? Would you like to stop wasting your money on ads not performing? Find how you can increase your sales with our eCom boost program!
NEW IKEA LOGO PNG
was brought to you by…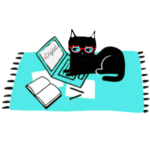 Mau is has been meowing digital marketing for 16+ years. A certified Facebook, Google Ads, SEO specialist and keynote speaker; Mau also offers marketing strategy support & digital marketing training. Mau's Digital Marketing Plan & Social Media Plan templates are used by hundreds of marketers. Subscribe to Mau's newsletter or connect on Linkedin Instagram or Facebook