THE BEST 25 ANIMATION ARTISTS ON INSTAGRAM 2021
Looking for an animation artist for your Instagram Marketing content strategy? Check out some of these top best Instagram animation artists below. Curated by Mau. Senior Digital Marketing Specialist and Instagram Marketing trainer at eDigital Agency.
THE BEST 25 ANIMATION ARTISTS FOR INSTAGRAM 2021
Animade is a London-based animation studio. They believe in the power of animated characters to bring a story to life. Whether it's a linear animation or an interactive experiment, it's the thoughtful details that truly make the biggest impression.  They offer design and production services from TV spots to social media campaigns, weird web toys to beautiful illustrations. Their passion for exploring the ever-expanding potential of animation has led them to the making of innovative tools for the creative community such as Boords for simple storyboarding. Animade is a team mixed of animators, illustrators and developers.
This pretty cool animated Instagram image has had more than one million views…
Anna is a freelance illustrator from Finland. Her passion is to create powerful animated GIFs! She welcomes any commissions or collaborations with brands.
Comic inspired animation work. Great animation timing and hand animation skills. His feed is mostly personal work.
Devicers is a creative studio focused on animation. They are a team of directors, illustrators, animators, designers and composers.
Gentleman Scholar is a creative production company, making compelling content with a design-driven narrative.
Golden Wolf is an award-winning animation production company based in London.
Greg is a Visual storyteller • Designer • Animator Creative Director at @BlindLA + @thefuturishere
Well known for the "mythical mondays" project: an animated gif of 52 different mythological creatures from various folklore around the world.
Henn Kim is not an animation artist but an illustrator from Korea. She has made a really popular Instagram account with her very creative creations.
James is an animation artist and designer based in Melbourne, Australia and Toronto, Canada.
Photographer and animation artist, this guy is popular for the viral swirling storm gif. With Photoshop, After Effects and special animation software, Wennström is able to bring movement to otherwise static images.
Kyle Strope is an illustrator/animator/art director/ living in Brooklyn, NY. Currently employed full-time at BUCK.
Magoz is a nomadic illustrator and animator. He spends his time creating conceptual illustrations & animations for around the world, developing personal projects, and writing on his blog.
Super cool animation feed on his website, Markus gets my personal high fives.
Nicolas is a Designer & Instagram Animator based in London, UK
Sarah is a freelance animation director and illustrator who also teaches animation on skillshare. Based in Portland, Oregon, Sarah's Wonderfall Instagram account is one of the most popular animation accounts.  After attending Savannah College of Art and Design (SCAAD) and a two-year stint in LA at Gentleman Scholar, she decided to join Oddfellows. Now, she works freelance from a Portland studio. 74.2k followers.
Yukai Du is a UK-based Chinese illustrator and animation director.
Henrik Mauler is the founder of the Zeitguised studio where art and design intersect with digital and physical three-dimensional space. Being a sophisticated player of 8-Bit games such as Pong or Space Invaders during his teens, Henrik is based in Berlin and has been working on animation since 2001, where his approach connecting conceptual design oscillates between the cerebral and poetic. With high profile clients such as COMME des GARÇONS, Mercedes Benz, Asics and Nike, Zitguised work often bears character like abstractions, brandishing a ZEITGUISED blend of digital animism; creating a universe steeped in consciousness where inanimate objects are inhibited by a connecting spirit. 98k followers.
Popular read > How to download Instagram stories
Last note: Is your marketing not reaching your sales targets? Stop wasting your money on marketing that is not performing? Find how you can increase your sales with our eCom boost program!
BEST ANIMATION ARTISTS ON INSTAGRAM
was brought to you by…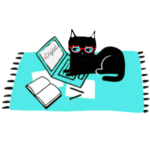 Mau is has been meowing digital marketing for 16+ years. A certified Facebook, Google Ads, SEO specialist and keynote speaker; Mau also offers marketing strategy support & digital marketing training. Mau's Digital Marketing Plan & Social Media Plan templates are used by hundreds of marketers. Subscribe to Mau's newsletter or connect on Linkedin Instagram or Facebook