THE TOP LATIN DANCE TYPES AND STYLES – LIST
Find the top Latin dance types and styles list. Curated by Mau, a Latin dancer and teacher and Senior Digital Marketing Specialist at eDigital.
🔥 Trending > How to use Instagram to generate leads to your dance studio
THE TOP LATIN DANCE TYPES AND STYLES – LIST
The below is a basic sketch of some of the most popular Latin dance types and styles and influencers. The sketch is not intended to be perfect and I have already spotted few styles missing but it can give you an indication of the great variety of Latin dance styles and types you can explore with your Latin dance partner or teacher.
The arrows mean the style that influences a new Latin dance.
For example,
Kizomba has been influenced by Semba and Kilapanga.
Salsa dance has been influenced mainly by Son Cubano, Mambo, Bogaloo and Latin Jazz
Reggaeton has been influenced by Rap, Dembow, Reggae and Ska
Zouk has been influenced by Martinique's Chouval Bwa and Guadaloupean Gwo Ka.
Cumbia is one of many partner dances in Colombia, surely the most popular Colombia's folk dance but not the only one. Cumbia and many other Colombian folk partner dances have been influenced by ingenious flutes, African percussion and Spanish guitars.  Vallenato music and dance incorporate accordion sound not really used on other Colombian dance types.
💡 Tip: Check with your Latin dance instructor and modify this sketch as you wish.
🚀 Most read today > The top fitness hashtags for Instagram
WHICH ARE MY FAVOURITE LATIN DANCE TYPES?
I really enjoyed dancing Salsa. However, I am learning Kizomba and would like to learn Son Cubano. Bachata is fun.
I want to discover more about Guadalupean Gwo Ka and Calypso dancing.
⭐️ Popular read > The best influencer marketing platforms – The list
Last note: Is your marketing not reaching your sales targets? Stop wasting your money on marketing that is not performing? Find how you can increase your sales with our eCom boost program!
THE TOP LATIN DANCE STYLES & TYPES LIST
was brought to you by…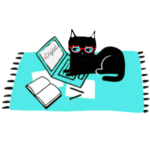 Mau is has been meowing digital marketing for 16+ years. A certified Facebook, Google Ads, SEO specialist and keynote speaker; Mau also offers marketing strategy support & digital marketing training. Mau's Digital Marketing Plan & Social Media Plan templates are used by hundreds of marketers. Subscribe to Mau's newsletter or connect on Linkedin Instagram or Facebook
👍🏼 You will also like > The best Instagram competition ideas & examples