"HOW TO GET SPONSORS FOR YOUR EVENT" GUIDE
Find below how to get event sponsors for your next event? You'll be surprised how simple it is to obtain high pay sponsors. Hundreds of event organisers and event marketers are using the below best secret tips on this exclusive and premium "How to get sponsors for your event" Guide to triple their sponsorship dollars!
"HOW TO GET SPONSORS FOR YOUR EVENT" GUIDE
One of the reasons businesses sponsor events is because sponsorships can be leveraged as an effective marketing and sales strategy. Business owners and marketers are ultimately looking to connect with their potential customers and existing customers in meaningful ways, whether to directly boost sales or leads, improve brand recognition, enhance their image, or all of the above.
When it comes to attracting sponsors, event managers should read this exclusive and premium guide curated by Mau, Event marketing Specialist at eDigital.
Whether you are planning an in-person or virtual event, the process of finding the right sponsor is similar.
You will also get (offer valid only this week):
A customisable Event Sponsorship Proposal template and open the doors to more, better and more premium sponsorship opportunities! This same template winning structure has been used by some of the World's Top Event Organisers to consistently land high paying event sponsorship deals.
A professionally crafted Event Budget Template on Google Sheets ready for cross-team collaboration. This event budget template includes separate sheets and charts for projected and actual budget and a sheet for comparison of your projected and actual expenses.
Yes, that's right! you will get three templates for the price of one!
FINAL NOTES
Now that you have the top tips to find potential sponsors as well as the best ways to attract them, you can feel confident about having everything you need to start reaching out to partners and securing funding for your next event!
GETTING THIS PREMIUM GUIDE IS FAST, SECURE AND EASY!
Complete payment. It's fast, secure and easy!
Once payment is completed, choose "Return to merchant" to get our "Thank you" page with the links to this exclusive guide and your bonus templates (offer valid this week only).
You can always contact us if you have any questions or issues
Last note: Is your marketing not reaching your sales targets? Stop wasting your money on marketing that is not performing? Find how you can increase your sales with our eCom boost program!
HOW TO GET SPONSORSHIPS FOR YOUR EVENT
was brought to you by…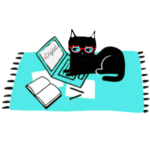 Mau is has been meowing digital marketing for 16+ years. A certified Facebook, Google Ads, SEO specialist and keynote speaker; Mau also offers marketing strategy support & digital marketing training. Mau's Digital Marketing Plan & Social Media Plan templates are used by hundreds of marketers. Subscribe to Mau's newsletter or connect on Linkedin Instagram or Facebook