THE BEST 10 "STRESS RELIEF" QUOTES FOR WORK
Find the best 10 "stress relief" quotes for work. Power words to relax the mind, become healthier and improve your wellbeing in your job or office. Brought to you by Mau, a Senior Digital Marketing Specialist at eDigital. 
THE BEST 10 "STRESS RELIEF" QUOTES FOR WORK
NUMBER 10:
"There is always a way out for those clever enough to find it"
Video above: Marcus Acuña, Argentinian footballer skills – left wing – impossible angle to play – Sevilla vs Chelsea Oct 2020
NUMBER 9: 
"If you want to reach objectives, climb a mountain, you better start going. Just thinking about the top does not bring you anywhere. You need to actually walk and every journey starts with the first step. Don't get confused by thinking too much. Don't get irritated or maybe be too shy that you don't wish for too much. Take it step by step"
Thomas Tuchel, Chelsea FC manager – April 2021
NUMBER 8:
"Do your best and let the rest go. Give yourself credit for making an effort and stop stressing about the outcome"
NUMBER 7:
"Do not stress for things you cannot control or change" 
NUMBER 6:
"No work is stressful. It is your inability to manage your mind and emotions that make it stressful"
NUMBER 5:
"Do not worry about getting everything done. Instead, focus on getting the right things done"
NUMBER 4:
"Sometimes the best thing you can do is to wait, allow time to pass. Do not think, do not obsess. Just breathe and wait. The solution may come anyway"
NUMBER 3:
"One of the symptoms of an approaching nervous breakdown is the believe your work is terribly important" 
NUMBER 2:
"S.T.R.E.S.S = Someone trying to repair every situation solo"
NUMBER 1:
"You cannot always have a good day but you can always face a bad day with a positive attitude"
HOW TO STOP STRESS? FIND OUT YOUR REDS AND RELENTLESSNESS TRIAGE
Feeling stressed? In her TED Talk, emergency room doctor Darria Long MD (Insta:@drdarria) shows how you can take back control even when your life starts to get "crazy busy". Her secret: Just like with patients in the hospital, you have to triage — or prioritize — the responsibilities that must be tackled first *and* then plan for the ones you know are coming.
"Our brains all process stress in similar fundamental ways, but how we react to it has been shown by research to be modifiable, whether it's emergencies or just daily, day-in, day-out stress"
Darria Long
To get more advice to help you juggle packed schedules and daily demands, watch her full talk below:
Last note: Is your marketing not reaching your sales targets? Stop wasting your money on marketing that is not performing? Find how you can increase your sales with our eCom boost program!
THE BEST 10 "STRESS RELIEF" QUOTES FOR WORK
was brought to you by…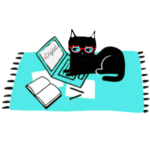 Mau is has been meowing digital marketing for 16+ years. A certified Facebook, Google Ads, SEO specialist and keynote speaker; Mau also offers marketing strategy support & digital marketing training. Mau's Digital Marketing Plan & Social Media Plan templates are used by hundreds of marketers. Subscribe to Mau's newsletter or connect on Linkedin Instagram or Facebook