HOW TO RECOVER A DELETED INSTAGRAM ACCOUNT 
Find out how you can recover a deleted Instagram account. Written by MAU. Senior Digital Marketing Specialist at eDigital.
HOW TO RECOVER A DELETED INSTAGRAM ACCOUNT 
If your account was deleted by you or someone with your password, there's no way to restore it. Full point. I am sorry you hear this.
You can create a new account with the same email address you used before, but you may not be able to get the same username.
If your account has been simply deactivated for not following Instagram's Community Guidelines and you believe this was a mistake, you can request to get it back by filling in this form.
Two things to remember for next time:
YOU SURELY WANT TO DELETE YOUR INSTAGRAM ACCOUNT
When you delete your Instagram account, Instagram will permanently remove your uploaded content: your profile, photos, videos, comments, likes and followers.
Please note that information that other Instagram account holders have posted about you on Instagram is not part of your Instagram account and will not be deleted by Instagram.
Before deleting your Instagram account, you may want to log in and download a copy of your information (like your photos and posts) from Instagram.
How to download all your Instagram content?
Steps:
Go to your Instagram app, clicking on "Settings"
Click on "Security"
then tap "Download data"
Enter your Instagram password
Viola! Instagram will email you a file with your photos, comments, profile information and more. It may take up to 48 hours to send it to you.
Once you receive the email, the link will only work for four days. Below is a screenshot of the data download email confirmation from Instagram.
Remember: After your account has been deleted, you will NOT have access to Instagram's Data Download tool.
Once you are 100% sure, you want to fully delete your Instagram account, follow this link.
YOU JUST WANT TO TAKE A BREAK
If you'd just like to take a break, you can temporarily disable your account instead, to do that you have to follow the below steps:
Steps:
log in from a computer (you cannot disable an Instagram account from the app)
then click "Profile"
then click "Edit Profile"
Scroll down, then click the "Temporarily disable my account" text link at the bottom of the page.
Need Instagram marketing support or training? Contact us
Last note: Is your marketing not reaching your sales targets? Stop wasting your money on marketing that is not performing? Find how you can increase your sales with our eCom boost program!
HOW TO RECOVER A DELETED INSTAGRAM ACCOUNT 
was brought to you by…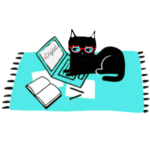 Mau is has been meowing digital marketing for 16+ years. A certified Facebook, Google Ads, SEO specialist and keynote speaker; Mau also offers marketing strategy support & digital marketing training. Mau's Digital Marketing Plan & Social Media Plan templates are used by hundreds of marketers. Subscribe to Mau's newsletter or connect on Linkedin Instagram or Facebook