THE BEST 5 RESUME WRITING TIPS FOR MARKETING JOBS
The best 5 resume writing tips for marketing jobs. Find the best information and advice on how to write a successful resume.
Hello, my dear reader.
I know two things about you:
ONE. You just searched on Google for information or advice about how to write a resume. I know that because I can see on Google Analytics the traffic for this page comes from Google searchers.
TWO. You are not sure about your resume.
That's fine. I was like you the first time I had to write my resume.
Common questions you may have include:
Should I include keywords for the job am I targeting?
Should let the resume builder pick up the right words for my resume?
What are the key components for writing a professional resume for my next marketing job?
What is the best resume writing examples in 2020 to land the best job?
How images can support the words on my resume?
I will answer those question to you and offer you some of my secret tips and hacks a few people know about to get contacted for the right job opportunities.
Ready? grab a drink and get a comfy chair…
🔥 Trending > The best bio template for marketers
BEFORE YOU WRITE YOUR RESUME
WHAT'S YOUR TARGET "DREAM JOB" 
Some people may think getting inundated by calls from recruiters and/or employers is a great thing. However, if you have done the hard task of defining your dream job, you will realise you do not want hundreds of calls for interviews. You want maybe 2-4 calls. The right calls.
You are the only person who knows what your target "dream job" should be. Examples:
Do you want to work for a start-up or for a large company?
Do you want to work remotely or commute to an office?
Do you want an autonomous role or a supervised role?
You can buy one of the thousands of online resume templates. You can also hire one of those local resume writing services. However, they would not choose the right jobs for you. That's your job the get your "ideal" job.
🚀 Most view today > The best Linkedin profile header image ideas & examples
THINK LIKE A RECRUITER / EMPLOYER
Making your job search successful includes not only writing the best resume but also thinking like a recruiter and employer: imaging their needs and desires.
Things to consider are:
Is the recruiter part of a big recruitment firm or a small one?
What's the most important skill the employer is looking for?
Does the recruiter have experience in the field for the job advertised?
Is the recruiter open to receive calls?
You want to know the answers to those questions because once you know your target "dream" job you will use any tool you may have to get your employer/recruiter attention.
💚 People are loving it > The best "Goodbye" email messages to colleagues – samples
THE BEST 5 RESUME WRITING TIPS FOR MARKETING JOBS
1. UNDERSTAND HOW RECRUITMENT WORKS
Employers and recruiters get hundreds of resumes each week. Before they even start reviewing resumes, their resume scanning software already filters out resumes and presented only the best possible matches for a role. Their software may also alert them about the number of times you have applied to other similar jobs.
They know how hungry or desperate you are to land a job or alternatively how selective you have been at applying for just few jobs.
As a result, you need something else to get their attention – at least –
👍🏼 You will also like > The best Linkedin profile header image size
2. YOUR COVER LETTER
Your cover letter is a way of saying:
"Hey I am here, ready for an interview, check out my resume because of this reason"
Why is a cover letter so powerful?
Because it is your hook to get employers or recruiters to consider reading your resume.
The topmost important objective of your cover letter should be:
Get the employer or recruiter to read your resume
That's it. Simple! Do not overcomplicate it.
How do you make that happen:
Add the top one reason they should read your resume.
Type the exact role and organisation name you are applying for
Confirm your eagerness to get an interview.
Only if required: Confirm how your skills match the role description
⭐️ Most useful > How to turn off birthdays, work anniversaries, job changes notifications on Linkedin
3. DECIDE YOUR RESUME CALL TO ACTION
Decide what you want employers or recruiters to do once they read your professionally written resume. Do you want them to call you, email you, check out your website or look at your online portfolio?
I personally want my number 1 call to action to be:
Employers or recruiters to emailing me confirming their interest in a call.
Why?
Because by setting a specific time for a call, I will have far more time to prepare for:
Answers to possible questions from the employer/recruiter
Organise key questions I would like to ask that will help me review the opportunity.
💡 Trends > Top fastest growing industries to find a job
4. DESIGN YOUR RESUME FOR EASY READING AND UNDERSTANDING
Things to consider:
How does the font suit the overall resume template design? For example, a conservative font may not fit into a modern resume template design.
Does the overall design match your professional website/blog/Linkedin profile/Behance/Dribbble profile? If not why not?
Do images and text balance nicely with the amount of empty space. Or does it look cluttered?
Is it an easy read even for someone who is not an expert in your industry (some recruiters could be no experts in your industry)?
Is your resume creating curiosity for the reader to email you or call you?
👏  Most read today > The best Linkedin profile photo ideas 
5. APPLY THE "TWO SECONDS" RULE
Once your resume is open by an employer or a recruiter, you only probably have 2-5 seconds to impress an employer or convince a recruiter your resume is worth a read.
So, what are the top 3 things that will make a difference in the first 2-5 seconds:
Design, design, design.
But hey, a successful resume design could mean so many things.
To optimise for the first 2 seconds, you can ask:
Does my resume look inviting?
Is my resume easy to read (all elements are balanced)?
Does my resume have something unique?
CONCLUSION
Test a few options, make notes of how many emails and calls you get for each version of your resume. There is no perfect best resume. but surely you now have a new perspective on how to evaluate your current one.
If you think this article can help someone else, please share it. Thank you.
You just created your resume and need "unmerciful" feedback? Contact me
Last note: Is your marketing not reaching your sales targets? Stop wasting your money on marketing that is not performing? Find how you can increase your sales with our eCom boost program!
THE BEST RESUME WRITING TIPS FOR MARKETERS
was brought to you by…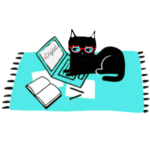 Mau is has been meowing digital marketing for 16+ years. A certified Facebook, Google Ads, SEO specialist and keynote speaker; Mau also offers marketing strategy support & digital marketing training. Mau's Digital Marketing Plan & Social Media Plan templates are used by hundreds of marketers. Subscribe to Mau's newsletter or connect on Linkedin Instagram or Facebook